Understanding The Other Through Psychologically-Informed Dialogue
The International Dialogue Initiative (IDI) aims to facilitate dialogue between representatives from various large groups, states and cultures for the purpose of learning about differences in perspective and finding peaceful solutions to intergroup relationship problems.
Who We Are
The International Dialogue Initiative is a private, international, multidisciplinary group comprised of psychoanalysts, academics, diplomats, and other professionals who meet at least annually to explore the dynamics of societal conflict.
Our Vision
We believe that solutions to entrenched large group conflict come about through sustained personal engagement of the people from those cultures.  The IDI's dialogue efforts therefore include all perspectives in an effort to grasp the psychological, historical and psycho-political dynamics that underlay misperception, overreaction and polarization.  A forum for discussion, reflection and insight, the IDI tries to identify "entry points" for intervention toward the goal of taming enemy images, clarifying irrational thinking, initiating empathy between opposing groups, and bridging severe splits.
Our Mission
IDI's mission is to understand the contribution of past trauma and current large group identity anxieties to disturbed relationships between communities and nations.  The IDI also develops interventions aimed toward facilitating deeper discussion between representatives from various cultures, toward the goal of learning about, and peaceful resolution of, emotionally-charged group differences.
What We Do
In the 21st Century, understanding the "other" presents itself as perhaps the major difficulty in the field of diplomacy and international relations. Misunderstanding, polarizing language and reflexive, historically-based antagonisms contribute to conflict between communities and nations. Despite the real differences that exist between such large groups, psychologically informed dialogue can open the possibility for understanding and overcoming potential distortions and stereotyped reactions.
The International Dialogue Initiative examines large group differences in an attempt to understand the psychological perspectives, obstacles and dynamics — for example, the effects of past trauma on present international relations — that make realistic peacemaking discussions difficult.  It aims to facilitate dialogue between representatives from various large groups, states and cultures for the purpose of learning about differences in perspective and finding peaceful solutions to intergroup relationship problems.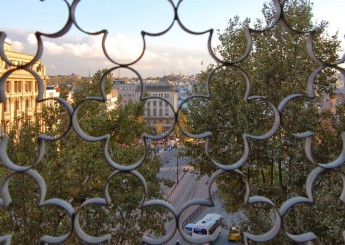 Berlin, Germany - December 02 2016 - December 04 2016
The Fourteenth Meeting of the International Dialogue Initiative (IDI) was held in Berlin from December 2 to December 4, 2016.  The IDI was hosted in the Kreuzberg neighbourhood by BAU International Berlin, a campus of the Bahçeşehir University Global Network.  The IDI has previously been hosted at Bahçeşehir University in Istanbul.  This was the IDI's … Read More
IDI Works Globally
IDI members typically carry out projects independently, sometimes in consultation with other members or organizations.
LATEST BLOG POST
Lord John Alderdice on Process, Purpose and "Being in the World."
From the personal website of IDI Vice President Lord John Alderdice: Why has this generation dropped the baton…..? On the long and winding road of the Northern Ireland Peace Process the most important lesson we learned was that such intractable, violent, political problems were a result of disturbed historic relationships between communities of people. The three key sets of relationships upon which the negotiations and subsequent institutions were based were between Protestant Unionists and Catholic Nationalists; between the people, North and South, in Ireland; and between Britain and Ireland. So long as we kept focussed on addressing these historic, disturbed relationships and realized that changes to constitutions, institutions, policing and the administration of justice, protections for individual and group rights, and social and economic development, were all instruments to build better relationships rather than ends in themselves, we continued to move forward, and indeed had something important to contribute to others who had similarly been mired in intractable conflict. We had learned some lessons from the European post-war experience where the French and Germans realized that the alternative to endless cyclical violence was building better relations, and they embarked on the European Project starting with the European Coal and Steel CommunityKeep Reading →
PREVIOUS BLOG POSTS
Vamik's Room: Documentary Film Trailer Available for View
A new trailer for Vamik's Room, the 2016 Gradiva Award-winning documentary from filmmaker Molly Castelloe, is now available for view here.  The IDI sends congratulations to all involved in this important film.
Drs. Vamik Volkan and Gerard Fromm present IDI work at the International Psychoanalytic University in Berlin
On Monday, Dec. 5, following the 14th Annual Meeting of the International Dialogue Initiative, Drs. Vamik Volkan and Gerard Fromm made presentations to staff and students at the International Psychoanalytic University in Berlin, Germany.  The only university of its kindKeep Reading →